This is a bobcat my buddy shot with his bow. We saw it while driving and got out and did a short stalk. The first shot was not fatal so there was quite a long tracking process that ended up with him stepping on the wounded cat. It was under pine needles so we could not see it at all. It was quite interesting when the cat came boiling out of the brush. It ran a short distance and he made the fatal shot.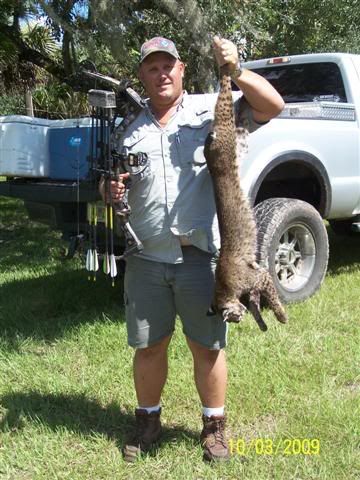 Here is a big bar. It weighed 240 pounds. My wife shot it while we were on the buggy. It is her biggest hog yet.
This is a doe I shot with my old Mauser rifle in 8mm. I got tired of sitting in the stand so I got down to take a walk. She was standing under an oak tree when I walked around some brush. "SlowPoke" from the forum was here hunting with me so I went and picked him up from his stand and we made the recovery together.